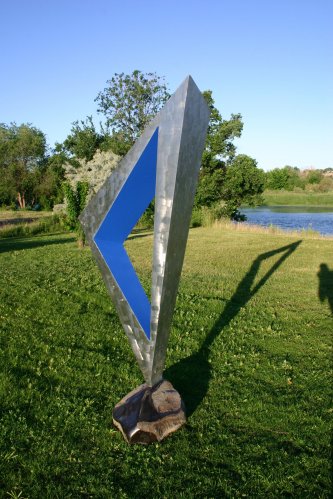 Project Description
Stainless Steel and Blue Enamel
7'5″ x 4'4″ x 1′ | 2.25 x 1.32 x .40 Meters
Blue Trinity was inspired by a simple reflection. As I sat at a cafe one morning, I watched a brilliant blue image move across a busy Seattle sidewalk. The image was being reflected off of a tall building down the street. For over an hour, people hurried past me on their way to more important places, not one took the time to realize the beauty underfoot.
I've been back to this cafe many times since, and I've searched for the particular muse. I've never seen it again, and it made me realize just how fleeting a moment in life can be. I transformed this ignored image into a form of which future passers by will take note.
On an artistic note: I had planned on using a blue enamel paint from the beginning of this sculpture, but I'm continually surprised as to the range of color this single blue takes on, from a very dark blue to an almost "fake" looking blue. All of this photos where taken on one morning as the sun rose.
Project Details
Project Category:
Public and Corporate Collections,