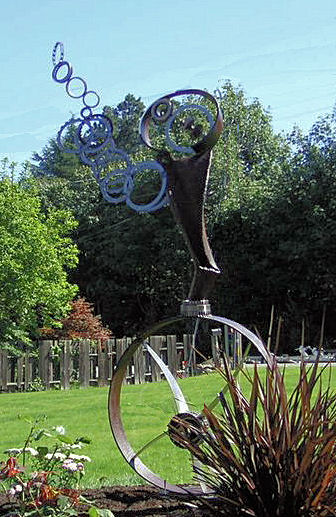 Project Description
Recycled Steel, Stainless Steel & White Acrylic
approx: 52″ x 48″ x 15″Oh, the nightmares. James visited Venice in March of 2007, and on his travels came across what appeared to be a harmless street performer. . . a Mime of sorts. He approached the mime for a cheesy snapshot and tossed a few Euro-cents into the mime's box. Then his travel companion did the same, but something went horribly wrong. After the money was tossed and the picture taken, the mime turned on her like any rabid dog. In order for James to exorcise his demons and work through the mime-o-phobia created by what he witnessed, his psychiatrist recommended art therapy.
This sculpture is the result.
WARNING: There are pictures of the horrific attack at the bottom of this page; please take your children and those of week constitutions from the room before viewing. This pictures may not capture the shocked gasp of the crowd, but at the very last moment, the mime purposefully forced its grease-paint-covered face against hers; you can tell by her smile she's still unaware of the severity of the damage… we all believe she was in shock. The evil grin of the mime says it all and still haunts me.
Thank you so much to the collectors who bought this piece!
Project Details
Project Category:
Private Collections,