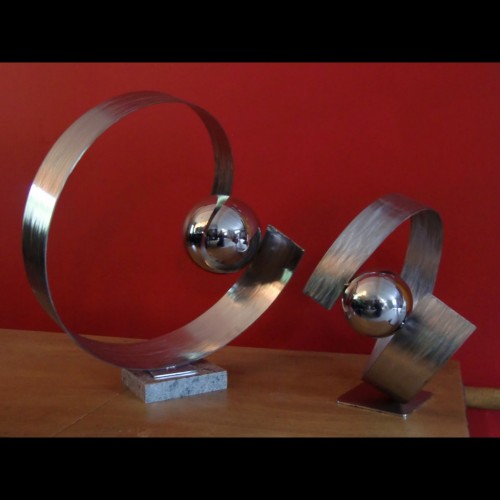 Project Description
Stainless Steel
14″ or 23″ heights |35.56 cm or 58.42 cm heights
This has been a very fun on-going series for me. It began with a few of my friends taunting me; they said that if I would only build something smaller and more affordable, they would stand in line to be the proud owners of a "Kelsey". I took up the challenge.
While the two primary sizes in this project are approximately 14″ and 23″ in height, I have also created three, six, and ten foot versions! Most of these I actually see as models for very large public or corporate sculptures, and in fact, I often ask the purchasers of this series if they would be kind enough to lend their sculpture back to me so I may present it to a art selection committee in the future.
Each of these sculptures are one of a kind; I haven't made an exact duplicate, nor will I ever.  Even more…  the owner of each piece gets the opportunity to NAME THE PIECE themselves!  That title will go into my permanent records and will be a part of my body of work.
If you would like to place a specific order for a size, please contact me.
Project Details
Project Category:
Available,