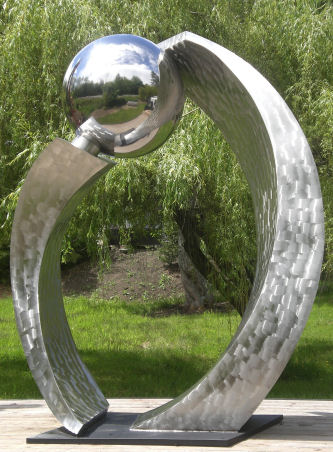 Project Description
Stainless Steel
7′ 10″ x 5′ 10″ x 3′ 3″ | 2.4 x 1.8 x 1 meters
This incredible sculpture will soon be in at its new home at Karat Townhomes in beautiful Richmond, British Columbia. The sale was a joint collaboration between the City and AmPri Development with a mutual goal of making Richmond an even better place to live.
A bit more about the sculpture:
"Tsunami In Steel" is a sculpture that comes from the very environment of the Pacific Northwest. In many areas now there are signs directing people to tsunami evacuation routes. There is an ironic humor in the fact that one of the 'safe' areas is to drive up a volcano (Mount Rainier). Of course, many of the volcanos of the Northwest are active to some extent and locals talk of the pyroclastic flows that will one day sweep down the mountain at 200 miles per hour (340 kph) carrying superheated mud, ash, and water with them.
My own mother now lives on the coast of the Pacific Ocean. Every time I visit, I can't help but notice the warning signs every other block. The motion created in this piece is as if a wave crashing down upon the shore was frozen in time. I sometimes dread the raw power of our earth, but this piece isn't born of that fear, instead, it comes from the awe and wonder of the power in nature. The utter strength of our world amazes and silences me (and not much silences my mouth, just ask any of my friends).
And I didn't even mention the earthquakes. . .
While complete within itself, this version of Tsunami In Steel is actually a 1/4-sized model for a final execution. The final size of this work will be approximately 34′ to 45′ (10.3 to 15 meters) in height. I am currently seeking a commission to create this monumental piece. I would like this work to have water flowing over the sphere and streaming down to its base.
Project Details
Project Category:
Public and Corporate Collections,
Company / Client:
The City of Richmond, British Columbia, Canada (and AMPRI)