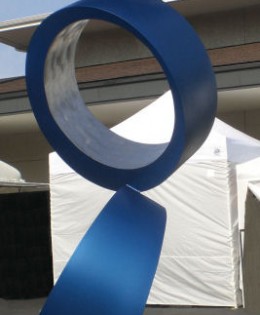 Project Description
Stainless Steel & Urethane Paint
8'2″ x 3'6″ x 3'8″ | 2.50 x 1.10 x 1 meters
"Tuareg Moon," and its sister piece, "Tuareg Sun" (now in the collection of the Fred Hutchinson Cancer Research Center, Seattle, Washington, USA) were inspired by the Tuareg Nomads of the Sahara Desert.
In not too past travels, I found myself about 20 kilometers past Timbuktu and out into the most desolate place imaginable. This incredibly remote city of nearly 12,000 inhabitants is located in Mali in sub-Saharan Africa. The landscape was the utter definition of stark. There was beige sand everywhere and the buildings of this mythic city are created from mud which had dried to the same desert brown. The only color was the vivid robes of the proud Tuareg people. These robes are hand-dyed from indigo ink and the vision of a line of blue walking across the desert is something I will never forget.
The Tuareg I met on my journey were the hardest looking people I've ever come across, but even so, they are quick with a smile and laugh as if they are the songbirds of the desert. To this point in time, I only have two pieces which convey my trip in anyway, "Tuareg Moon" is a 1/4-scale model of what I truly want to create, but this will have to suffice until I receive a commission for the full-sized version.
The other completed piece is "Sahara Blue" and is a part of my Steel Canvas series. I have promised to send 10% of the selling price of this sculpture to the Tuareg depicted on one side of the Canvas.
Project Details
Project Category:
Private Collections,